Comprehensive Roofing Services in Aberdeen
Creed & Garner Roofing Co. Inc. of Aberdeen provides comprehensive roofing services for both residential and commercial sectors. Our professional roofing contractors have experience with a wide range of applications and specifications. The team is equipped for projects of any type and size! Read through our services below, and let us know what we can do for you.
---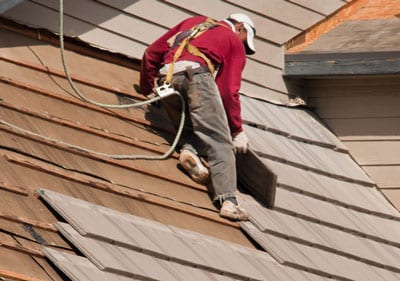 Re-Roofing
We are available for complete re-roofing services for homes and businesses in need of a new roof. These services are available for roofs that are missing shingles or large areas of the roof, or if there is extra wear and tear. Did you recently experience major damages from a bad storm with heavy winds, rain, and hail? We have you covered!
Re-roofing services from Creed & Garner Roofing Co. Inc. includes complete removal of your existing roof, full cleaning, and reinstallation of the same roofing materials or others of your choosing. We will make sure to clear out all of the old debris and dispose of it properly, ensuring your property looks better than ever.
---
New Construction
Creed & Garner Roofing Co. Inc. is also available for new construction of roofing on homes and businesses. Our roofing contractors have experience with starting fresh. The initial consultation will take place in order to understand your needs and the rest of your construction plans. We will work with you to determine the materials and style you would like for your new roof. Additionally, we always discuss with your builders, contractors, and developers to ensure we are able to properly install the new roof when it is our turn.
New construction is such an exciting milestone for any home or business owner! We are dedicated to making one of the last few things installed simple, complete, and done right the first time. You won't need re-roofing or repairs anytime soon when you choose Creed & Garner Roofing Co. Inc. for your new construction.
---
Leak Repair
In addition to our comprehensive new construction and re-roofing services, we also offer complete leak repairs to make sure your home or business stays safe and dry at any given moment. We highly recommend you do not attempt to fix a leaky roof yourself! This can be dangerous – give the professional roofing contractors at Creed & Garner Roofing Co. Inc. a call.
Our leak repair services include complete inspection, leak detection, and thorough repairs that you require. As soon as you notice or suspect that your roof might be leaking, you should contact us right away. Immediate leak repair will help prevent dangerous mold and wood rot, which can cause even greater issues in the future. Your repair might include laying cement over the worn and leaky area or replacing a complete area of shingles. We will expertly determine what your roof needs in order to be restored for high protection from the elements.
---
To request any of our services and get started on your next project, give Creed & Garner Roofing Co. Inc. a call today!

Weathered Wood


Colonial Slate


Heather Blend


Max Def Moire Black


Slate Gray

Country Gray


Max Def Weathered Wood

Max Def Colonial Slate


Black Pearl


Berk Sherwood Beige

Devonshire Castle

Supreme Williamsburg Gray


Tru Def Designer Aged Copper


Tru Def Designer Merlot

Tru Def Designer Pacific Wave


Tru Def Designer Sand Dune


Tru Def Designer Sedona Canyon


Tru Def Designer Storm Cloud

Tru Def Designer Summer Harvest


Tru Def Dur Brownwood

Tru Def Dur Chateau Green

Tru Def Dur Desert Tan

Tru Def Dur Driftwood


Tru Def Dur Estate Gray


Tru Def Dur Harbor Blue


Tru Def Dur Onyx Black

Tru Def Dur Quarry Gray


Tru Def Dur Shasta White

Tru Def Dur Slatestone Gray


Tru Def Dur Teak

Tru Def Dur Terra Cotta


Tru Def Dur Williamsburg Gray


Tru Def Oakridge Brownwood

Tru Def Oakridge Desert Tan


Tru Def Oakridge Driftwood


Tru Def Oakridge Estate Gray


Tru Def Oakridge Flagstone

Tru Def Oakridge Onyx Black


Tru Def Oakridge Peppermill Gray

Tru Def Oakridge Twilight Black


Tru Def Oakridge Williamsburg Gray